Warrior Poet Society Coffee? You might be thinking--how did WPS emerge from the tactical corner of YouTube to bring you a farm-to-cup, direct-trade cup of coffee originating on veteran-owned family farms in the shady slopes of Corquin, Honduras?
And then work with a local, veteran-owned roastery in north Georgia to deliver some of the best coffee we've ever tasted?
Here's one answer to your question--life is too short to drink crappy coffee. Warriors and poets alike love that jolt delivered by delicious bean juice. And because we're warriors AND poets, it would follow that we care doubly as much about our cup o' joe.
And here's another thing--we wanted to show the world that you don't have to be a tree-hugging hippie hipster millennial to care about and support hardworking farmers who are trying to provide for their families while providing your mornings (and afternoons and evenings) with some truly excellent organically-grown Arabica.
While other companies focus on extravagant marketing, we decided to let the story and community impact behind our process do the talking for us. Portions of all profits earned from our coffee go directly to helping veterans and other charities that share our values - a morning brew you can feel good about supporting.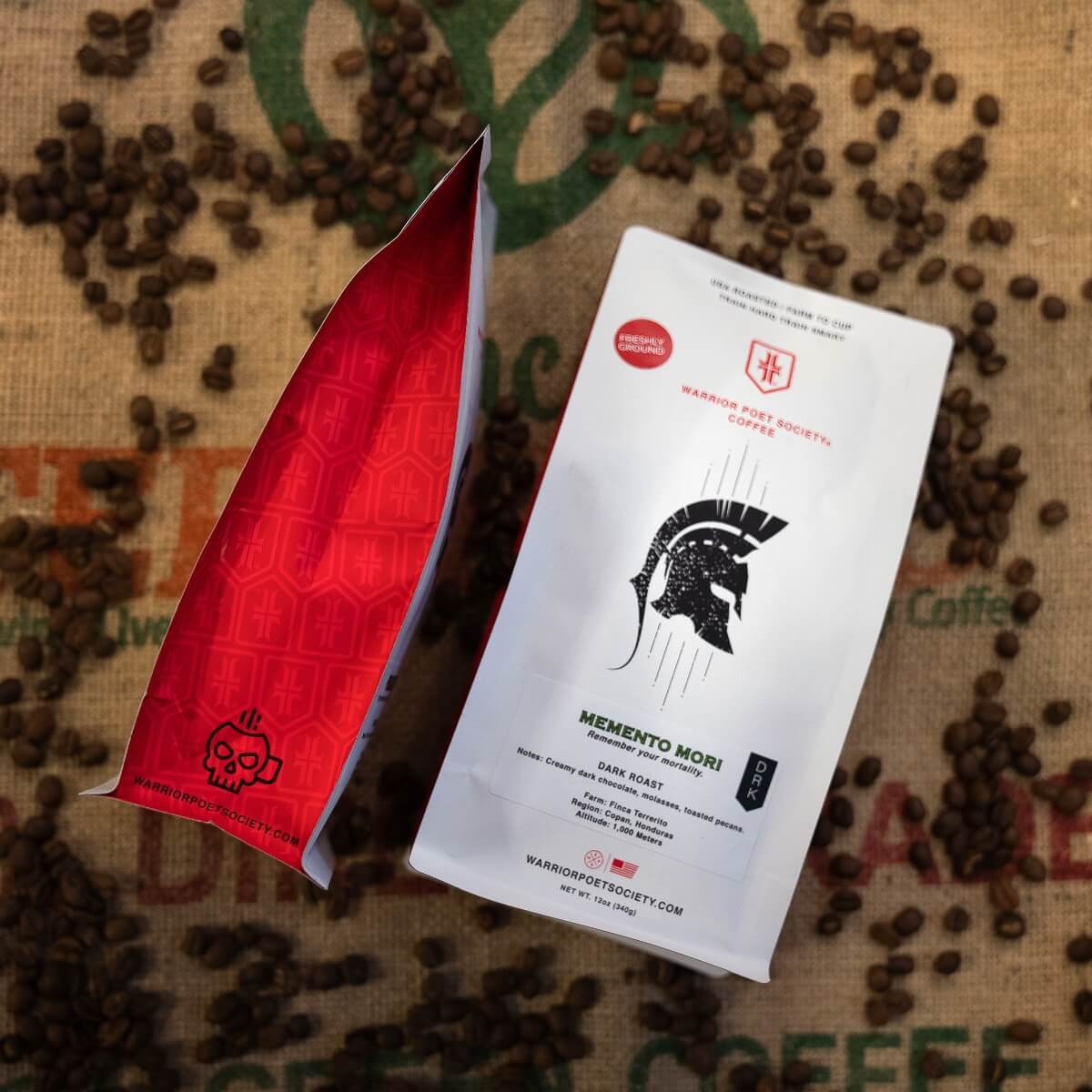 Why is Warrior Poet Coffee Direct Trade?
There's a lot of lingo thrown around in relation to one of South America's largest exports--single source, fair trade, direct trade. There's a good reason that it's $16 a bag.
Direct trade means there's no coffee broker taking his cut and potentially leaving the growers with little to show for their work.
It means no middle man masking the source of the coffee beans or allowing shipments to sit in ports for weeks.
It means more magic in your mug on a cold morning.
Aim Small, Miss Small--Our Coffee Comes in Three Roasts
We're keeping things small and simple--at least for now--to provide high quality instead of high variety. Warrior Poet Society Coffee is available in three roasts (with ground and whole bean options):
Parabellum: A medium roast with notes of rich chocolate, caramel, and brown sugar
Memento Mori: A bright dark roast with notes of creamy dark chocolate, molasses, and toasted pecans
Deus Vult: A light roast with notes of milk chocolate, walnuts, and orange.
Pick up a bag or two and tell us this stuff isn't legit some of the smoothest, low-acid, complex-flavor coffee you've ever put in your cup. Pairs nicely with | a quiet morning, a window, deep thoughts, plus these: WPS Onyx Mug + Field Notes Journal + WPS Tactical Pen.
Train Hard. Train Smart. Stay Awake. Leave A Review.